EMME Regional Climate Action Plan
The Eastern Mediterranean and Middle East Climate Change Initiative (EMME-CCI) has developed a Regional Action Plan for the region's countries to address the climate crisis. Based on the scientific work of thirteen thematic Task Forces comprised of over science-based Regional Action Plan for ameliorating regional climate change effects and advancing relevant mitigation actions, in line with the goals of the Paris Agreement.  
This Plan is being drafted based on the recommendations of thirteen thematic Task Forces comprised of over 240 scientists under the coordination of The Cyprus Institute. If you want to have access to the Regional Action Plan, please register here.
The plan should be considered a working document. Its contents will evolve in accordance with the continuing work of our Scientific Task Forces.
GOVERNANCE SCHEME & REGIONAL ACTION PLAN
In two regional ministerial meetings, a Governance scheme comprising a Governing Council, the Initiative Secretariat and National Climate Offices has been developed and it is expected to be further refined and developed in the coming months. Extensive reports produced by the thirteen scientific thematic Task Forces, which include a plethora of proposed adaptation and mitigation measures have been published and made available to country authorities. The Task Forces' recommendations provided the basis for the proposed evolving Regional Action Plan.

An Evolving Regional Climate Action Plan
The Regional Action Plan is being developed so as to be easily adaptable by Governments and other stakeholders of the region (such as NGOs, companies and local governments). A continuous consultation process is necessary with all concerned. This ongoing process will involve the continued engagement of the Task Forces, the regional country offices, and all relevant stakeholders under the guidance of the Council of the EMME-CCI. Such a process is intended to produce a climate Action Plan that will change over time depending on the dynamics of the climate crisis and the local situation at the EMME. The Plan should be broad, inclusive, dynamic, open, flexible, innovative and appealing.
Developed in this way, the Action Plan includes:
• The social, political, legal institutional, economic, technical, and administrative dimensions
• Specific long-term projects and services; concrete institutionalized frameworks, each actively promoted by varying groups of countries
• A timeline, a risk analysis, a monitoring mechanism and concrete implementation steps and activities.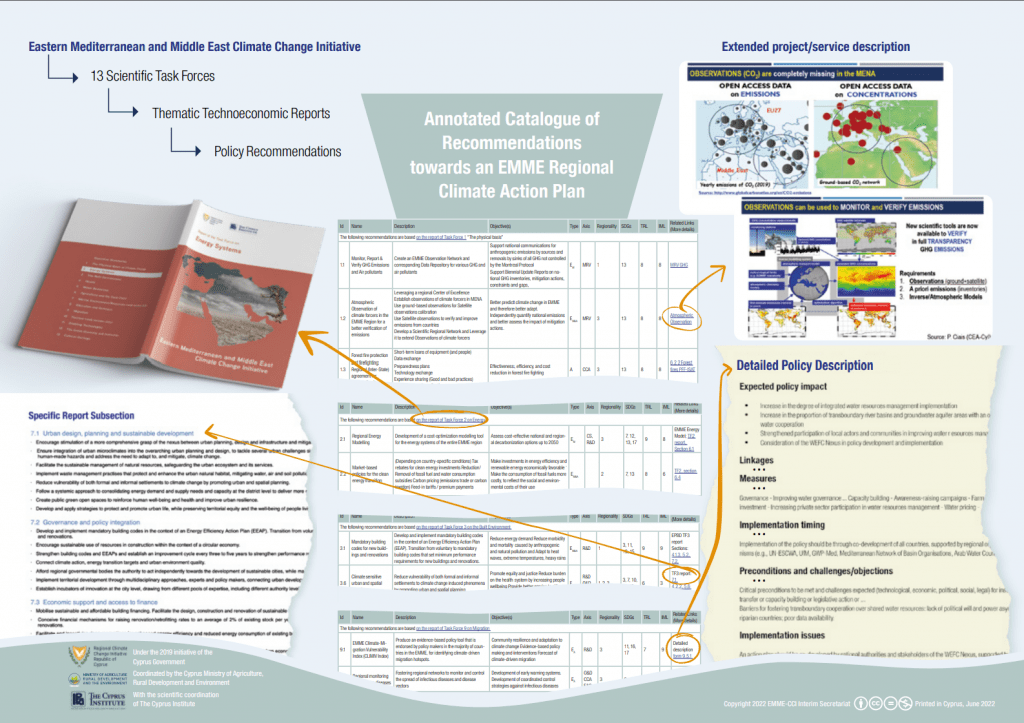 By clicking on the image you can download a sample of the Annotated Catalogue of Recommendations. If you want to have access to the full document, please register here.
---